Procurement & Purchase Management
A unique Purchase management Software Module for Hotels that covers Recipe Costing, hotel inventory, hotel cost control etc. The features of Hospitality Procurement module covers.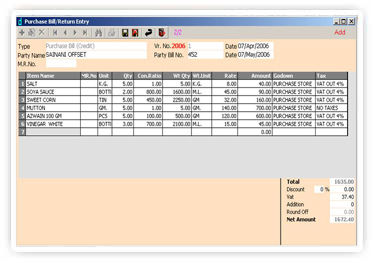 indenting of items, Quotation, Purchase Order Generation, Material Receipt and Purchase of materials, Issue of Items to sub stores, kitchen on internal requisition
It generates certain reports like requisition report, Indent register, Material Receipt report, Purchase register, Department wise issue report, Stock of Raw Material, semi-finished and finished items, Item Consumption report on basis of Recipe Planning, Stock reports, Vat reports etc.
Key Features:

Creation, Modification, Cancellation, Multi-Level Authorization options for Users.

Price Comparison & Verification Facility at the time of Purchase Order Generation.

Pending Order Tracking with short supplies.

Detailed Purchase Registers with Pending/ Delayed Supplies.

Multiple Approvals for Multiple Kitchen Requisitions.

Item wise/ Party wise/ Average Rate wise Purchase Analysis.