Front Office Management Software
Front office management software is a part of Hotel Management system that helps in online reservation services through Website, Bookings through Travel Desk, Corporate Bookings or direct Booking.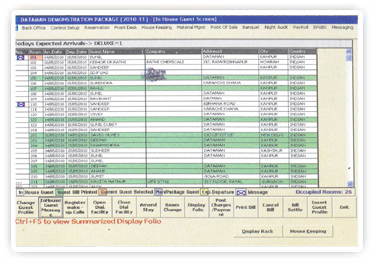 The Room Booking Management software helps user to generate Confirmation/ Cancellation letter, Registration card, Look up Room Category wise/ Room wise Availability, Forecasting and related reports.
The Front Desk module generates certain reports like Instant House Count, Check-in Register, Check Out Register, Room Inventory, Arrival & Departure Register, Guest Outstanding, Occupancy Report, Cashier Summary, Settlement details, Room Change report, C-form Printing, Luxury tax registers, Certain reports related to tourism department etc.
Key Features:

Completely Integrated module.

Integration with online reservation.

Look up Room type and Rack Based Reservation.

VVIP/Guest Arrival Status at a glance.

Instant house count along with housekeeping screen.

Room display provision of pictures and videos.