Aatithya NG Enterprise - Complete Property Management System
Software for property, Hotels, Motels, Clubs, point of sales
Aatithya NG Enterprise is a state of art product for Property Management System (PMS). It offers flexibility to manage all needs of the entire hospitality industry. It can be used in Budget Hotels, Motels, Lodges, Guest Houses, Megamalls, Resorts, Clubs, Restaurant & point of sales, Banquets etc. Complete wonderful software for Hotels Mid-size to large size properties. An Integrated architecture keeps all aspects of management sharing for greater efficiency. Aatithya can be compare one of the Best hotel software in your budget.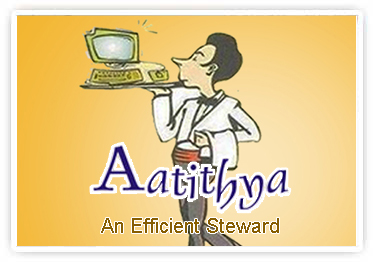 Aatithya NG Enterprise runs on MS Windows 2000/ XP/ Vista/ 2007/ 2008 platforms and based on MS SQL Server database technology. These technologies making it highly stable, robust, reliable and cost effective. It is very simple to use, easy to implement, the hotel package boasts of superior component design for fast response.
Aatithya - A well know name for Hotel Accounting Software, running successfully at over 750 Mid-size Hotels to large size properties across the country.
Key Features:

Manage multiple properties with multiple currencies.

Centralized Operations for all the departments.

Interface with latest devices for EPABX, ARS, Room Lock and Barcode powerfull with power full.

Daily MIS & Security System.

Automatic integration between operations, front-office & back-office departments.

Customized reports as per client requirement.

Manage Inventory to reduce extra investment.

An attractive user-freindly and easy to navigate interface.

Powerfull night audit mechanism that require no shutdown.

Powerfull audit trails ensure secure data processing.

Meets all statutory compliance for govt. departments.

One of the simplest ERP Software Solution for hospitality business.